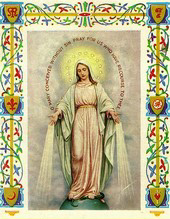 Welcome to Saint Catherine's Metalworks!

Our Miraculous Medals are coined by hand in a high tonnage press using our custom made steel die at our plant in Cleveland, Ohio. Each finished Miraculous Medal is touched to first class relics of St. Catherine Laboure, St. John Neumann, and St. Maximilian Kolbe.
[ Medals | Catalog | Saints & the Medal ]
[ About Us | Links | Follow us on TWITTER. ]
International Orders welcome! E-mail us for Shipping Costs,
Use your Credit Card for the best exchange rate!
Saint Catherines Metalworks
Van C. Peplin, Founder
4289 Wooster Road
Fairview Park, OH 44126